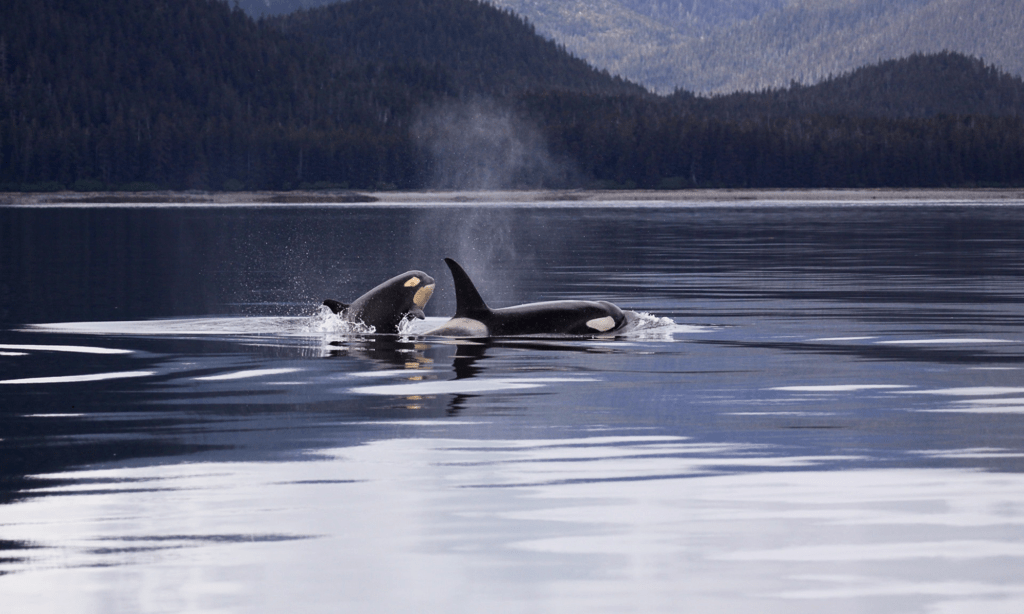 Kayaking With Whales
Spring, Summer, and Fall find the San Juan Islands home to our local pods of orca (killer) whales and visiting transient orcas.
Our two, three, four and five-day expeditions spend one and one half to two days traversing pathways where orcas are most frequently found as they hunt schools of migrating salmon. Our Lime Kiln Full Day tour paddles in whale habitat from late morning to late afternoon, while our Lime Kiln Half-Day tour spends three on-the-water hours in prime killer whale territory! Paddling with the experienced guides at San Juan Kayak Expeditions gives you the best odds of sea kayaking with orcas in the wild!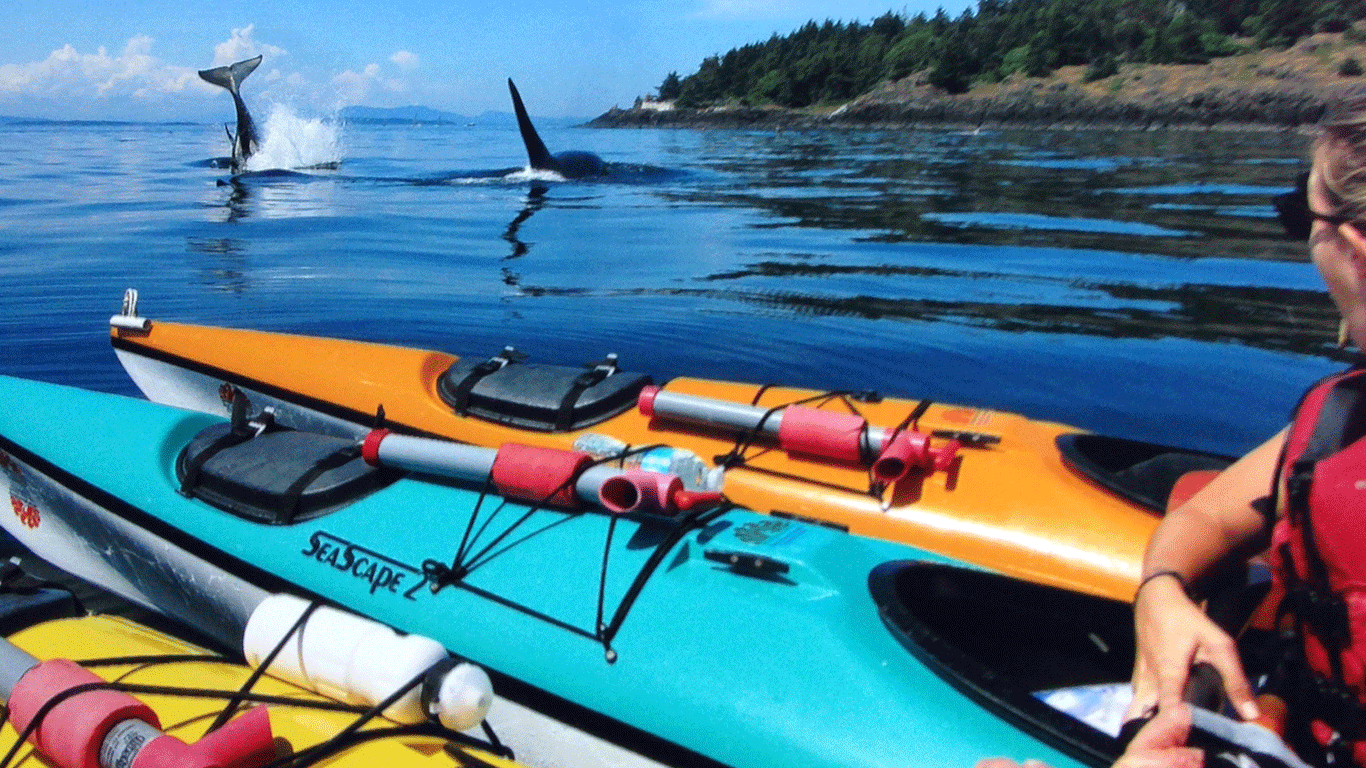 Kayaking with killer whales in San Juan Island.
Sea kayaking with orca whales in the San Juan Islands can be an awe-inspiring experience of a lifetime. With weights between 5 and 9 tons and lengths of 25 to 30 feet, observing orca "killer" whales from a kayak is an unforgettable event. Since orcas are social creatures, they can be found in groups of three to 25 and more. Their breathing sounds and underwater vocalizations make paddling with orcas an audio as well as a visual extravaganza. Past kayak expeditions have witnessed orcas spy-hopping, breaching, lobtailing, hunting or sleeping (I know it sounds funny, but watching whales sleep is one of the most amazing things you will ever witness)! Come join us for a sea kayaking with orca whale wildlife encounter that you will remember forever!
Humpback whales are making a dramatic comeback is island waters in recent years and sightings have become common! These gentle, baleen giants are 50 feet in length and up to 60 tons and are a joy to behold. With exciting pec fin slaps, tail lobs and air-borne flukes, humpbacks are a dramatic addition to our ocean fauna!
While observing whales our small groups follow Sound Watch and NMFS (National Marine Fisheries Service) guidelines. We maintain the required distance of 300 yards when possible. Sometimes orca whales will come very close to us, however, when we are rafted in a kelp bed or in a bay or cove. These close encounters with killer whales are unforgettable experiences. Your guide will share exciting facts about these amazing whales.
Is it safe to kayak with orcas?
We have been paddling with orcas whales since 1980, and know that these intelligent whales are always as aware of us as we are of them. They might be curious at times and swim very near, but with no malicious intent. It is illegal to paddle into their path. By rafting up and moving into shore whenever possible, we allow them to travel freely on their route with no harm done.
In addition, our two, three, four and five-day trips traverse a popular humpback whale habitat and minke whale feeding grounds and explore channels inhabited by Dall's and harbor porpoise. Other wildlife you may see:
Humpbacks and other marine life.
Humpback whales, minke whales, stellar sea lions, harbor seals, mink, raccoon, deer, big-horned sheep (imported), Sitka deer (imported), prong-horned antelope (imported) and red-tailed fox. California sea lions, gray whales, elephant seals.