Our Strengths
At San Juan Kayak Expeditions, we specialize in high quality, small group kayak adventures for those wanting to experience the true spirit of the San Juans. We have been leading sea kayak tours since 1980! Our knowledge of these waters, coastlines, whales and wildlife is unmatched!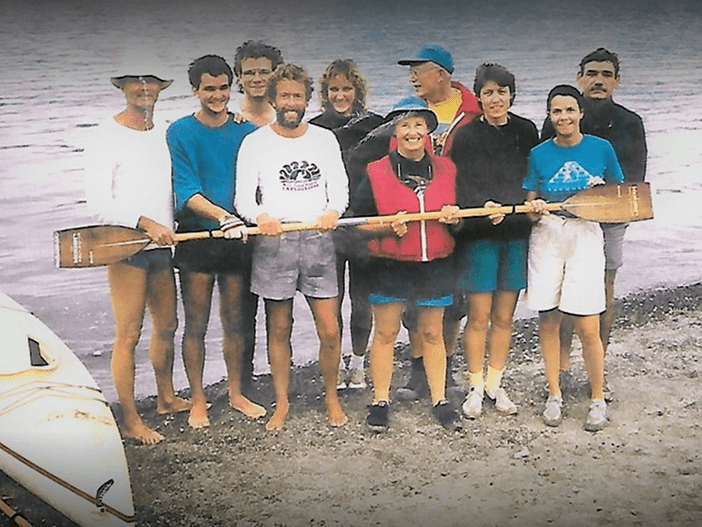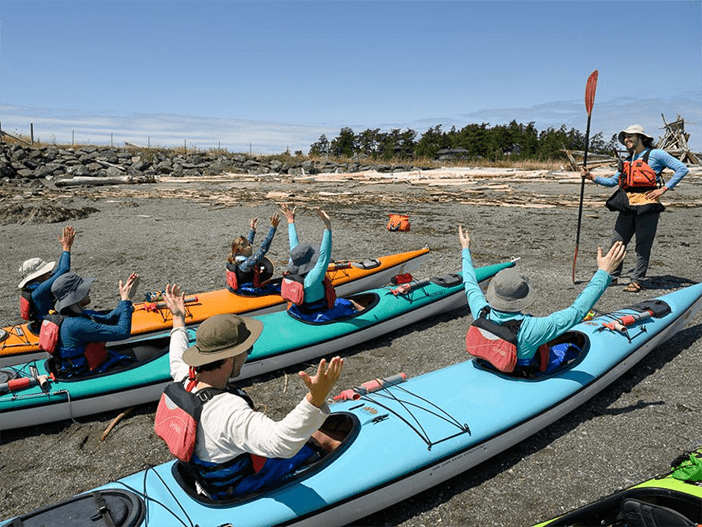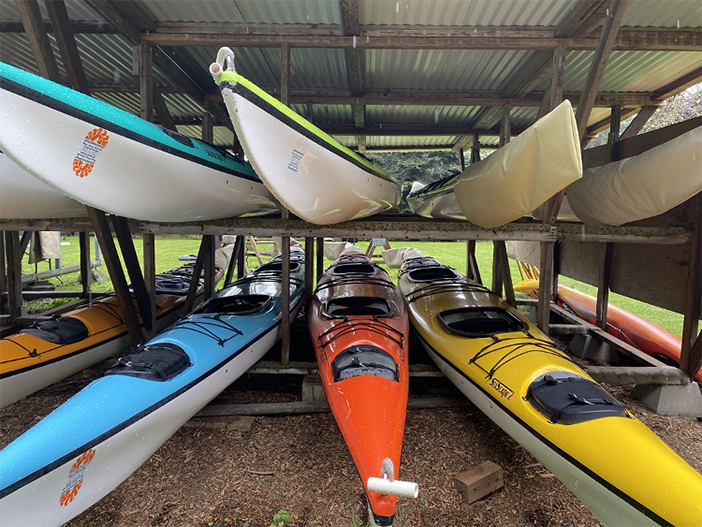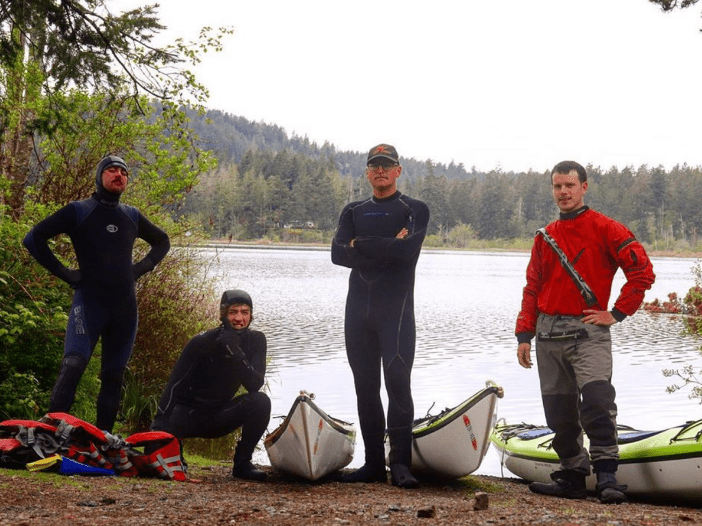 Experience
Our founder, Tim Thomsen began paddling the islands in 1978 and started San Juan Kayak Expeditions in 1980. He guided three- and four-day expeditions for thirty-three years and was quick to exclaim with a humble smile that he had paddled more miles in the San Juans by sea kayak than any human being on earth. Despite Tim's retirement, we continue to operate SJKE with the same spirit of excellence often asking, "What would Tim do?" Today San Juan Kayak Expeditions remains the oldest sea kayaking outfitter in the San Juan Islands, yet the smallest.
Small Group
Our founders' goals have always been to keep the company on a personal level and to insure small group sizes for a more intimate guest adventure. We continue to operate SJKE with that same goal today, focusing our positive efforts on access, safety, and minimum impact.
Quality Gear
From top-notch guides, to gear and to customer service our company is unmatched.
We use high caliber equipment for every kayak tour including quality sea kayaks (Seascape 2s and 3s by NW Kayaks). A favorite of touring companies, the Seascape 2 is exceptional in performance and durability and its large cargo capacity and long, graceful waterline makes this extremely stable kayak ideal for extended trips. The Seascape 3 was the first and original full-sized, 3-cockpit triple on the market that easily accommodates three adults. The power of 3 paddlers provides for a quick, smooth, and stable trip. The center cockpit, with the center bulkhead option, can be quickly converted into the largest gear hatch available today and paddles very well as double.
We complement our kayaks with Werner carbon-fiber paddles, NRS or Extrasport PFD's, Snap Dragon Design spray skirts, ThermaRest seat cushions, complimentary dry bags, and rain ponchos just in case. In addition, two-person Kelty tents and nylon hammocks are included on our multi-day trips.
Safety
Our customers' safety is our top priority. We want you to have a worry-free kayaking experience, so we have chosen the best equipment available in the industry and plan our tours based on weather patterns and tidal fluctuations. Our staff members are certified in rescue/first aid and have extensive safety training, on and off the water.
We are here to show you the best of the best while keeping you safe. We know the islands, waters and coastlines inside and out, and only lead you to places that offer the most stunning views and most memorable experiences.
Reputation
We love what we do, and it shows!

Anderson G
November 7, 2021.
Verified
Awesome We went on a trip with San Juan Kayak Expeditions on our recent honeymoon and could not have been happier with the trip! Our guide Austin was extremely knowledgable about the area and the trip was great fun! The food was great and we saw lots of wildlife along the way! We will definitely book a trip with this company again the next time we are up in the San Juans!

Mike D
September 20, 2021.
Verified
World class kayak expedition My wife and I did a 5 day kayak trip. We've done similar trips in Norway and Scotland, and San Juan kayak Expeditions ranks up there with the best. Their experience on the water, group dynamics, and safety is stellar... and it's all delivered with a fun and friendly manner... and the food was AWSOME too.

James
September 15, 2021.
Verified
SJKE guides are the best Our group of a dozen had an awesome time on a one-day trip over the last weekend in August. Our guides Nate, Sophie, and Austin were fantastic. They provided thorough teaching and guidance for some inexperienced paddlers, and picked a route along the west side of SJI that took advantage of shifting sea currents. We had multiple wildlife spottings, including a bald eagle, porpoises, and even some rare minke whales (which Nate ID'd at several hundred yards). Everyone in our group had a blast. I highly recommend San Juan Kayak Expeditions.

Brandontravel2016
September 13, 2021.
Verified
Max was awesome I booked a trip with San Juan Kayak Expeditions for my business group of 11 people, because of the excellent online reviews. I know I speak for everyone in my group, when I say this was the highlight of our trip. Max was our guide and he did an excellent job teaching us the kayaking basics and giving us a great tour. Thank you Max!

Denise N
September 7, 2021.
Verified
Perfect day on the Water. Perfect weather, perfect water - Thanks for arranging that! Lovely mix of kayaking near the shore and small hikes to scenic or historic locations. Our guide, Austin, was so thoughtful to partner a little old lady unable to paddle on her own. He was informative and fun. It was a perfect way for the happy hubby and I to celebrate 30 years of wedded bliss. I highly recommend San Juan Kayak Expeditions.

carlin0l
August 13, 2021.
Verified
Great experience with San Juan Kayak Expeditions We recently had the pleasure to participate in a 3 hour kayak tour with this company. The person in charge of our tour was well organized, super knowledgeable, and fun!! We saw eagles, seals, and ORCAS!!! The whole experience was truly unbelievable and so fun. Even if we didn't see Orcas I would highly recommend this tour! The views are beautiful and you are bound to see something interesting!

Verified
Kayaking in San Juan waters. Noah was a fantastic tour leader for our kayaking experience on August 4, 2021. He made the trip fun and shared his knowledge about the sea life, history and present. Had a great time. Thank you, Noah!

Verified
Beautiful day on Griffin Bay Had a fantastic paddle through Griffin Bay yesterday. Noah was great, knew the bay and area really well and got everyone acquainted quickly so we could get out on the water. Hope we have time for some more tours!

Verified
Great Experience Had a great time with San Juan Kayak Expeditions for a half day morning tour on Sunday, 8/1 with Nathan and Sophie! They were both super nice and very informative on the tour. We didn't see any Orcas, but we saw some bald eagles and seals. We had a blast! Highly recommend.

Verified
A very relaxing day on the water. Seeing wild life such as seals, and various birds. It was also good exercise. Our guides Nate and Sophie were great. Nate was very knowledgable about the local geogrpahy as well as marine life. He did a very good safety briefing
---