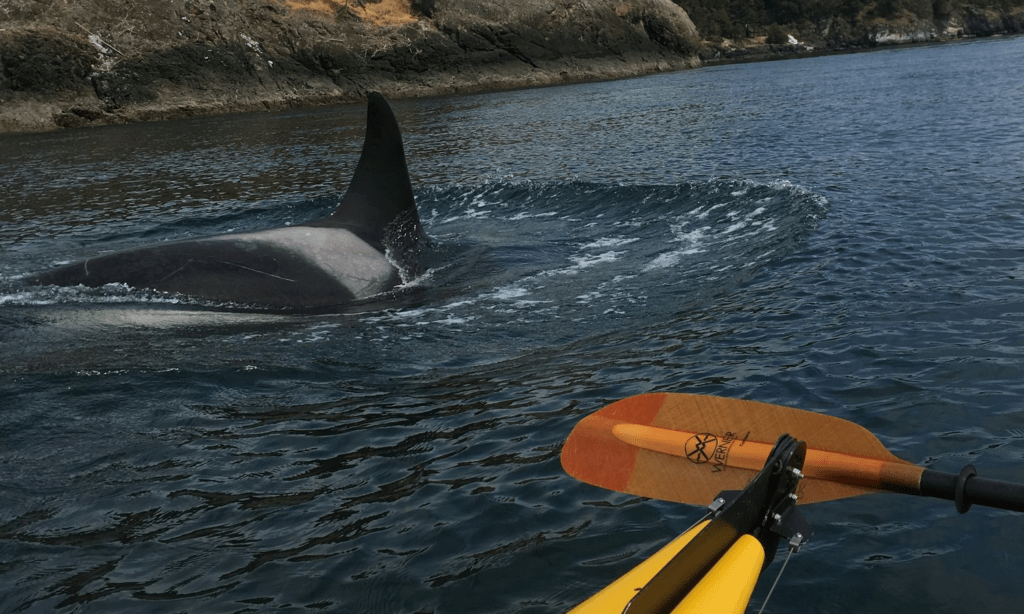 Lime Kiln Half-Day Kayak Tour
Tour Details
Offering: Daily from May 1st to September 30th
Cost: $119.00 per person plus sales tax. Price includes all county park launching/landing fees.
Difficulty: Easy to moderate
Islands Explored: 2
Minimum Age: 14 (With limited space for 10-13 year olds in a triple kayak. Call us before booking. 360-378-4436)
Departure: 9 AM or 2 PM from the kiosk at 25 Nichols Street (next to Cynthia's and across from Cafe Demeter),
Duration/Distance: 4 hrs (kiosk to return); 4 miles. Participants must be in moderate or better physical condition and able to paddle for sustained periods of time.
Highlights
This trip packs a lot into a short time! Launching from San Juan County Park into our federally designated Whale Sanctuary on the west side of San Juan Island, we spend a few hours paddling pristine coastline and enjoying spectacular views of the Olympic Mountain range and Vancouver Island, Canada. Besides killer whales, we also keep our eyes peeled for humpback whales, minke whales, Dall's and harbor porpoise, river otters, harbor seals, and Stellar sea lions. Bald eagles soar overhead and seabirds forage along the eddy lines.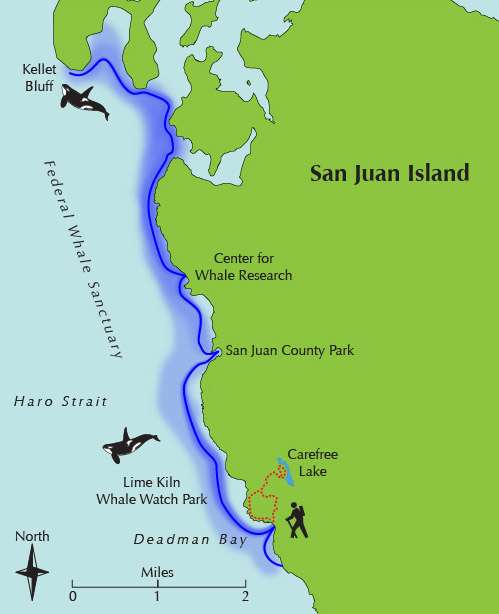 What You Might See

Orca whales
Humpback whales
Minke whales
Dall's and harbor porpoise
Stellar and California sea lions
Harbor seals
River otters
Bald eagles
Peregrine falcons
Many sea bird species

Learn more about the whales and wildlife of the San Juans.
What We Supply

Equipment: Quality sea kayaks (Seascape II's by NW Kayaks), Werner carbon-fiber paddles, NRS or Extrasport PFD's, Snap Dragon Design spray skirts, ThermaRest seat cushions, Complimentary dry bags, Rain ponchos.
Services of a friendly, experienced, knowledgeable guide.
Transportation to launch site and return.
Thorough and professional instruction at the beach.
What You Bring

Sun protection: One sun hat with wide brim/visor, Sunglasses, Sunscreen
Water shoes (Teva -like sandals, Chacos, aqua socks, wetsuit booties, Crocs, old tennis shoes)
Warm weather clothing: t-shirts and shorts with a light jacket.
Cool weather clothing: fleece jacket, polypropylene or Capilene tops; nylon or stretch pants.
Rain gear: coat with hood or rain poncho. If you don't have your own, we can supply you with a rain poncho.
One quart or liter bottle full of water per person (we will carry water for refills).
Snacks to share with group.
Camera and binoculars.
Itinerary

Meet at kiosk in Friday Harbor (25 Nichols St.) 15 minutes prior to your tour start time. Depart for San Juan County Park. Instruction on beach. Paddle into west side designated Whale Sanctuary. Return to beach. Drive back to kiosk.

Each Day Tour can be different depending on conditions and if we do happen to have some unique marine life in the area. We will make sure to put you in the best spot!

*Based on tides, currents and winds we will either paddle south towards Deadman Bay or north towards Kellet Bluff.
Compare

We have been leading sea kayak tours since 1980! Our knowledge of tides, winds and whales is unmatched! We use only quality, state-of-the-art, fiberglass sea kayaks and gear! No wet, slow and uncomfortable plastic boats or heavy, plastic paddles are used on our tours. Fun, friendly and professional guides (average age 31 years!)
Cancellations

With notice 7 days or more prior to trip date a full refund minus a $25 cancellation fee. With less than 7 days entire payment is retained.
Have more questions about your trip?
See our FAQs or give us a call: 360-378-4436.
"Incredible trip from the beginning till the end. Such a great outfitter. They are extremely knowledgeable and experts in the area. This is crucial in dealing with the tides and overall safety. It is a full service operation with the highest quality equipment provided by any outfitter in the industry. Whether you are going for a day or week, San Juan Kayak Expeditions is amazing!"
Trip Advisor Review