FAQs
Looking to know more about your San Juan Island kayaking adventure? Have more questions about what to expect, what you might see or what our kayaking experiences have to offer? See the frequently asked questions below!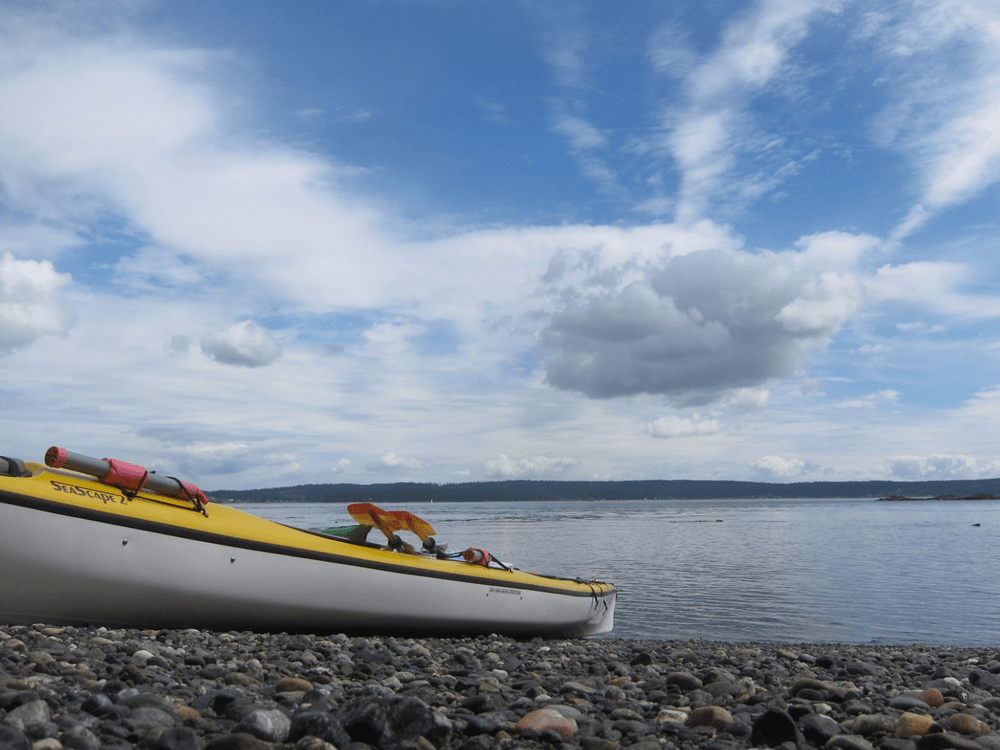 How do I get from Seattle to the San Juan Islands?
You can take a boat, plane, car, or bus.
Do I need a car?
No. You can leave your car in Anacortes and walk on the ferry. Our kiosk is located two blocks up the hill from the ferry terminal and we provide transportation to and from the launch site. If travelling to the island for a longer duration, it can be nice to have a car. You will need to make ferry reservations both ways.
I didn't read your FAQs and brought my car. Where should I park?
There is 8-hour parking on 1st Street by the courthouse. For multi-day trips, there is limited parking on Argyle Street in front of the San Juan County Fairgrounds or at our shop, though we highly recommend leaving your car in Anacortes when possible. View Friday Harbor parking.
When and where do we meet?
Our kiosk is located at 25 Nichols Street, two blocks up the hill from the ferry. If you are heading to San Juan Brewing Company, it's on the right – you can't miss it! Guides typically meet guests 15 minutes prior to the start of the tour. e on the lookout for a confirmation email or text with more information.
Are there any age restrictions?
We limit our day and multi-day tours to 12 and over! Sea Kayaking is an exerting activity and requires some upper body strength and stamina. Because we are in tandem kayaks, we can often pair pre-teens/teens with parents or guides to maximize the overall experience for everyone. We also have triple kayaks available upon request.
Is there a weight/height limit?
For the paddler's safety and comfort 250 lbs. is the per person weight limit. It certainly depends on your body-type, so exceptions have certainly been made. Anyone taller than 6'6 may be uncomfortable on longer trips.
What will the weather be like?
The San Juan Islands lie in the rain shadow of the Olympic Mountains and are often referred to as the Blue Hole and the Banana Belt for their predominance of dry, sunny weather with only occasional cloudy or rainy days. Temperatures range from daytime highs of 70-85 degrees (Fahrenheit) to nighttime lows of 50-60 degrees (Fahrenheit).
Early spring and late fall temperatures are usually cooler by 5-10 degrees (Fahrenheit) with a somewhat greater chance of rain. Winds may be strong but are usually light to moderate. Of course, this is the Pacific Northwest, so hope for the best and be ready for anything. If you are paddling with us in May, June, or September, you will need more layers, light gloves, and stocking hat. There is always a chance of rain at any time during the summer, so good rain gear is imperative.
Check Friday Harbor weather in the San Juan Islands before your tour.
Do we still paddle if it is raining or in the event of inclement weather?
Though we are in the rain shadow of the Olympic Mountains and don't see much precipitation in the summer, we do paddle in the occasional showers. Rainy days on the water can be the most calm and serene of them all! Wind is a bigger concern, and we will reschedule trips due to wind when necessary.
I am a beginner kayaker. Will I be able to keep up?
No paddling experience is necessary on either our day or multi-day trips, though it may help you have a more pleasant time. Our guides will provide instruction for how to move and paddle the boat as well as what to do in the highly unlikely event of a capsize. Being in a tandem kayak is nice as you steer with your feet (rudder) and they are nice and stable!
How stable are the kayaks? What is the likelihood of them flipping over?
We paddle fiberglass, 22-foot tandem kayaks hand made here in the Pacific Northwest and boy are they nice! We have had a handful of capsizes over the past 20 years and most of them have been on calm, warm sunny days. The age and height recommendations are to protect guests and by adhering to these you are more likely to stay dry!
What is the average group size of your kayak trips?
The average group size is 5-6 with most groups capping at 9. We can accommodate larger groups through our Custom Group offerings.
I'm traveling solo. How does that work?
We pair solo travelers with other solo travelers, odd numbered group members or guides depending on the group size, as all guests are in tandem kayaks. All solo travelers will have their own tent on multi-day trips.
I have a dietary restriction/food allergy. Can you accommodate this?
Yes, we can accommodate most dietary restrictions on both our Lime Kiln Full Day and multi-day tours. Please be sure to mention or make note of your dietary restrictions or concerns when you make your reservation.
How long are the tours?
Our tours run from three hours to five days with options in between! Griffin Bay and Sunset tours are three hours, Lime Kiln Half Day Tour is four hours, and our Lime Kiln Full Day Tour runs six hours. These times are from pick up to drop off. Give us a call to learn more about our multi-day trips.
Is there a restroom?
Restrooms are available in Friday Harbor and at all day trip launch and landing sites. Multi-day adventures have composting toilets at all campsites.
What should I wear/bring?
We launch from the beach, so shoes that can get wet are important. Chacos, tevas, or any sandals or water shoes of your choice will suffice. We recommend synthetic clothing – light layers that will dry quickly and protect you from the sun! Reusable water bottles and snacks are great. Look out for more info in a confirmation email or text and don't hesitate to contact us with any questions!
What sort of experience and medical training do your guides have?
All our guides are Wilderness First-Aid/CPR certified and most are Wilderness First Responders. We pride ourselves in our thorough guide training which includes hours of rescue skill practice.
If we would like to tip our guide, what is the industry standard?
Our guides work hard to provide a fun, safe and educational experience for all. If you would like to express your appreciation to the guides through gratuity, such recognition would be enthusiastically received. The industry standard for tipping is approximately 10% per person of the trip cost.
Can I bring a camera?
By all means! You can secure your electronics in our handy dry bags, and for an extra layer of protection, place them in a zip lock bag.
Can you store additional items/luggage that I don't want to take on the tour?
Absolutely! We have limited storage at our kiosk location for day bags and small luggage and for multi-day trips we can hold onto whatever you need.
Am I guaranteed to see orcas?
Orca whales can travel up to 100 miles per day, so while we paddle in prime orca habitat on all our day and multi-day tours, we cannot guarantee orca sightings. Truth be told, though this has historically been one of the best places in the world to see orcas in the wild, things are changing rapidly. Hydroelectric dams and commercial salmon fishing are having negative effects on the local Chinook population which had directly correlated to the number of sightings in recent years. "Resident" or fish-eating orca sightings have been down while "transient" or marine mammal-eating sightings have been way up. We will do our best to put you in the best position possible if they are around!
How close to the orcas can we get?
There have been increasing regulations by the State of Washington to attempt to protect the endangered "resident" orcas and we fully support them! Though we are legally required to stay 300 yards away, there are times when the whales come within that distance of our group. In those situations, we "raft up" or bring all of our kayaks together and stop moving. Fingers crossed that you get lucky!
Will we be able to see other types of whales?
Yes! In addition to the orcas, we have seen humpbacks, minkes, fin whales and even an occasional gray whale.
Are you active with orca conservation?
We are members of Center for Whale Research and adhere to all federal, state, and local whale watching regulations.
What's the difference between you and other whale watching companies in the area?
We are the original kayak outfitter in the San Juan Islands with 42 years paddling and guiding tours in these waters. Being small allows us to maintain quality customer service, hire and train only the very best guides and continue to provide top of the line fiberglass sea kayaks and quality gear in excellent condition. The original owners, Sally and Tim Thomsen retired in 2021 after 33 years. We continue to operate SJKE in the same spirit of excellence often asking, "what would Tim do?" You're in good hands with SJKE.
Do you have hotel and restaurant recommendations?
Yes, see our hotel and restaurant recommendations on our Lodging and Dining page.
Are showers available?
There are no formal showers available on day or multi-day trips, though a plunge in the frigid Salish Sea with a dab of biodegradable soap can go a long way!
What is your cancellation policy?
For day tours and rentals, full payment is required at the time of booking and full refunds minus a $25 fee are issued if cancelled more than 48 hours prior to your tour. If cancelled less than 48 hours in advance, full payment will be retained though date change requests can be accommodated subject to availability. For multi-day tours, 50% deposit is required at the time of booking and the balance is due 45 days prior to your departure. If cancelled more than 30 days prior to your tour, a full refund minus $25 fee is issued. If cancelled less than 30 days in advance, full payment will be retained though date change requests can be accommodated subject to availability. 
Ready to book or have more questions?