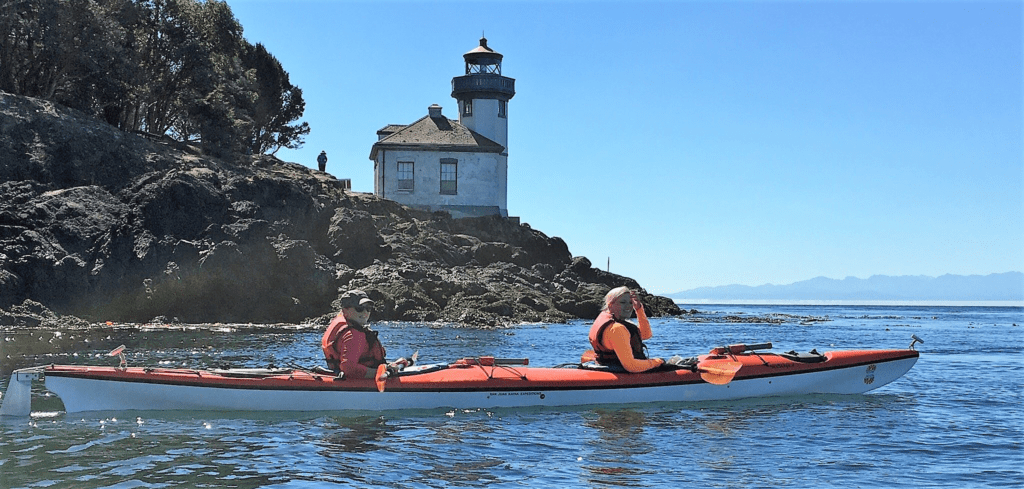 4-Day Islands Adventurer Kayak Tour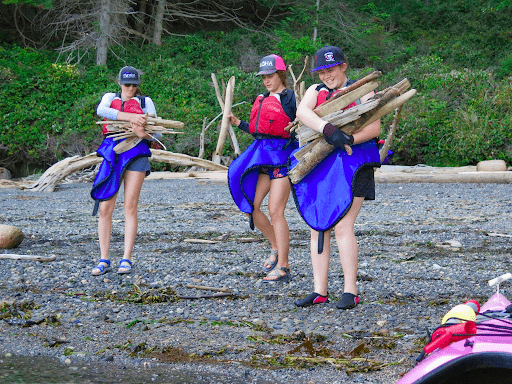 Tour Details
Cost: $869.00 per person. A 50% deposit is due at time of booking with the balance charged 45 days prior to departure date. If you are registering within 45 days of your trip date, full payment is required. Thank you.

Trip Dates 2022: Dates coming soon.

Difficulty: Moderate to hard
Departure: 10:30 AM
Distances:  35 miles (7 miles, 12 miles, 10 miles, 6 miles on consecutive days).  Participants must be in good to excellent physical condition, experienced in the outdoors and able to paddle for sustained periods of time.
Minimum Age: 14 (kids must be able to interact well with adults, be physically fit and experienced in the outdoors)
Highlights
Our Four-Day Islands Adventurer is for those who really want to maximize their San Juan Islands experience and encounter as many local critters as absolutely possible! You'll explore the coastlines of more than 20 islands, large and small! You'll paddle and sail your sea kayak up to 37 miles and see shores of awe-inspiring beauty and variation! We explore the rocky cliffs of Speiden Island rising hundreds of feet out of the ocean; the warm, sandy beaches and impenetrable forest of Henry Island; the spectacular hiking and vistas of Jones and Yellow Islands and American Camp National Park.
This is an ideal expedition for kayaking with orca whales (we spend a day and a half paddling and camping in prime orca whale habitat), stellar sea lions, humpback and minke whales, porpoise, otters and other marine mammals and to observe the varied flora and fauna of the San Juan Islands.
Four days gives you time to hone your sea kayaking skills, more opportunities to experience the joy of sea kayak sailing and to really get into the rhythm of a sea kayaking expedition. You will enjoy three spectacular and unique campsites, savor scrumptious cuisine and see breathtaking colors on our sunset hikes and paddles! Bioluminescence paddles are also a great way to end a full day of adventure!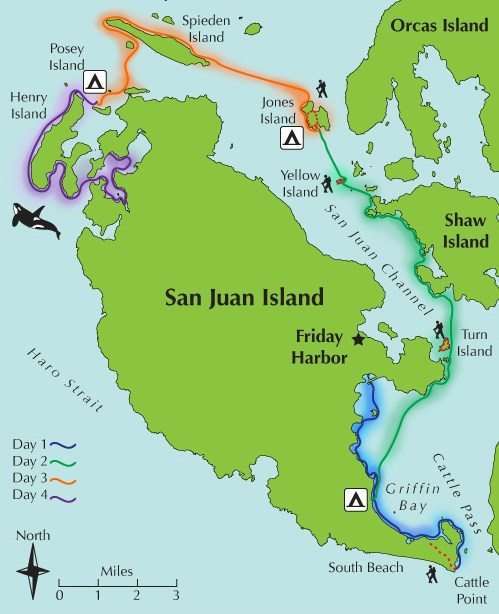 What You Might See

Orca whales
Humpback whales
Stellar and California sea lions
Harbor seals
Dall's and harbor porpoise
River otters
Mink
Bald eagles
Peregrine falcon
Osprey
Many other migratory and local bird species
What We Supply

Pick-up at kiosk and return
Services of a knowledgeable, fun and friendly guide
Seascape II fiberglass, tandem kayaks by NW Kayaks
Werner carbon-fiber paddles
NRS PFD's
Snap Dragon Design spray skirts
ThermaRest seat cushions
Delicious and nutritious breakfast, lunch, and dinner
Two-person Kelty tents (singles will have a tent to themselves)
Nylon hammocks
Thorough kayak instruction on the beach
All cooking gear
Rain tarps
What You Bring

Sleeping Bag and sleeping pad (ThermaRest or comparable)
Layered clothing
Rain coat w/ hood (GoreTex or comparable)
Personal camping gear (headlamp, mess kit, etc.)

* A detailed information packet and equipment list of the things you need to bring will be sent to you upon receipt of your registration form. Sleeping bags and ThermaRest sleeping pads are available to rent for a nominal fee if you don't wish to bring your own.
Itinerary

Day 1

We begin at our Sea Kayak Center kiosk at 25 Nichols Street on the morning of your tour. If you are on the ferry that morning, catch the 9:00 AM ferry from Anacortes. Upon arrival, please make your way immediately to our location. Please call if you have any questions.
We are located just two blocks directly up the hill from the ferry dock in Friday Harbor. Follow East Street past ferry loading lanes, cross to The Hungry Clam, past Serendipity Used Books, and The Market Chef. We are on the corner of A and Nichols Street between Cynthia's Bistro and Roy's Drive-Thru. Look for our Kayak Tours sign and umbrellas inside the white, picket fence.
If you are on the island the night before your tour or coming off the ferry the morning of, please meet at our kiosk at 10:15 AM.
Shuttle to Griffin Bay launch site for detailed instruction and packing
Launch and paddle to Dinner Island and harbor seal colony
Explore south to American Camp National Park and Griffin Bay Campground(camp)
Set up camp, eat lunch
Launch and paddle the pristine coastline of the national park
Land at Third lagoon for hike to Cattle Point Lighthouse
Enjoy vistas of Mt. Baker, Olympic Range, Cattle Pass, Vancouver Island and Strait of Juan de Fuca
Back to kayaks and paddle to camp
Delicious dinner and relax
Enjoy short sunset paddle to Halftide Rocks
Back to camp for campfire

Day 2

Launch and cross to Pear Point then Turn Island for lunch
Cross San Juan Channel to Shaw Island, Low Island, Wasp Islands and Yellow Island(hike)
Cross to Jones Island(camp)
Enjoy some much deserved hammock time and scrumptious dinner
Leisurely walk to sunset viewpoint on mossy knoll
Back to camp and campfire

Day 3

Break camp
Paddle across to Speiden Island, down north side to Speiden Bluff
Cruise to Sentinel Island then cross Speiden Channel to Barren Island and Posey Island(camp)
Set up camp, eat lunch and luxuriate in hammocks
Launch kayaks for afternoon exploration of Henry Island's west side(whale county)
Return to camp for Mexican night cuisine
Launch for leisurely sunset paddle and drift in Haro Strait(whale country)
Back to camp for campfire

Day 4

Break camp
Circumnavigate Henry Island(whale country)
Into Open Bay for sea glass hunting, horseshoes and lunch – Depart Henry Island, cross Mosquito Pass into Westcott Bay and Garrison Bay(British Camp National Park)
Hike to British Camp and 7th largest maple tree in U.S. – Finish at our exclusive landing site on Westcott Bay
Transport awaits you for scenic drive back to Friday Harbor in time to catch 4:15 PM(Spring) or 3:45 PM(Summer) ferry back to Anacortes or to drop at your accommodation in town
Meals

---

All meals are wholesome, delicious and nutritious and there is plenty of it! Our menu is as follows:

Pesto pasta with salad, sourdough, and butter (lots of fresh veggies)
Burritos (black bean, cheese, san Juan salsa lots of fresh veggies, guacamole)
Coconut curry (chickpea) and naan
Vegetarian Chili

Breakfasts include gourmet pressed coffee (from San Juan Roasting Company), cocoa, fresh melons, sliced bananas, blueberries, grapefruit, oranges along with yogurt, raisins, super nutty granola, cinnamon bagels, cream cheese, jam and oatmeal with honey and cinnamon. These get-up-and-go breakfasts allow us to get on the water in time to catch the tide or encounter a pod of whales.

If you have special dietary needs (vegan, veggie, gluten or dairy-free), we will be happy to work with you on alternative foods.

Our meals are fun and active! You'll enjoy every bite!
Compare

We have been leading sea kayak tours since 1980! Our knowledge of tides, winds and whales is unmatched!
We use only quality, state-of-the-art, fiberglass sea kayaks and gear! No wet, slow and uncomfortable plastic boats or heavy, plastic paddles are used on our tours!
Just a five minute ride to our beach. Paddle more and drive less!
Our carbon footprint is the least in the industry!
Fun, friendly, knowledgeable and professional guides!
Complimentary storage for luggage, bicycles ands extra stuff!
Cancellations

With notice 45 days or more prior to departure date a 100% refund less a $50.00 cancellation fee. 44 – 30 days prior notice to departure date we will retain 50 % of the fee paid. With notice less than 30 days prior of departure date full payment is retained.
Have more questions about your trip?
See our FAQs or give us a call: 360-378-4436.
Don't miss this!
Our four-day adventure exceeded all expectations: The trip was well-organized and worry-free. The boats and gear were of the highest quality. The route was spectacular, diverse, challenging, and ultimately relaxing. Capping all: our guide's competence and knowledge was extensive (of course), but his joy and zeal was absolutely infectious. It's obvious that this company has done this before. I unreservedly recommend.
Trip Advisor Review