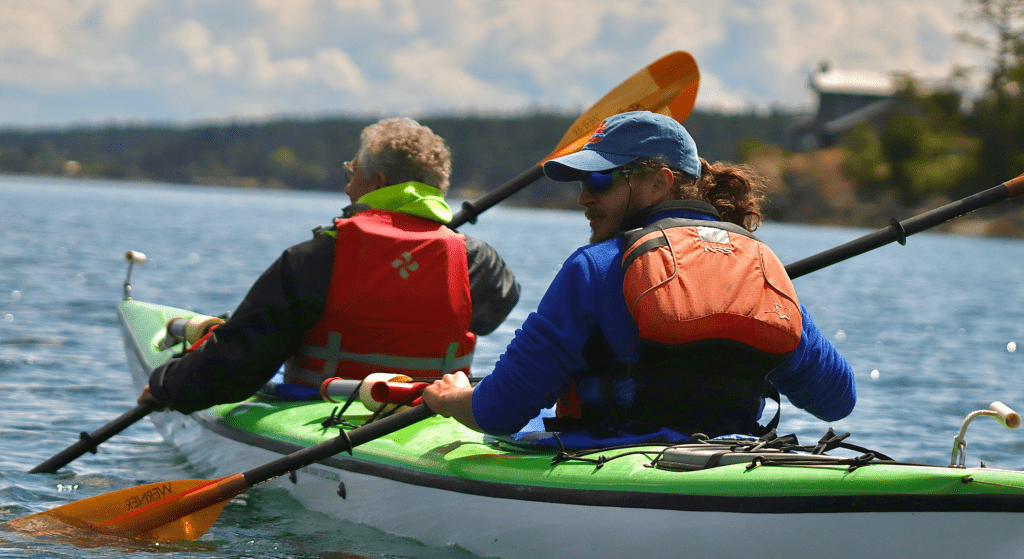 Multi-Day Guided Trip Preparation
Preparing for your adventure in the San Juan Islands!
Thank you for choosing San Juan Kayak Expeditions for your sea kayaking adventure. We look forward to meeting you and sharing with you the beauty and wonder of the San Juan Islands. To be prepared for a fun and safe kayaking trip please read the information carefully and well in advance of your scheduled trip.
Preparing for the Trip: To have the best experience possible we suggest, if you are not already exercising regularly, that you begin now. Depending on the trip you have booked, we may paddle up to 10-15 miles while taking two to three beach breaks. A bit of stamina, upper body strength and a can-do attitude are essential. Any exercises that work the larger upper body muscles (deltoids, rhomboids, pecs, lats, triceps) plus swimming, running and/or yoga are useful.
What we Supply: Transportation to and from our Sea Kayak Center kiosk to the launch and take out sites, two-person fiberglass touring kayaks and all its gear including kayak sails, experienced, fun and friendly guide(s), two person tents with singles in their own tent, breakfasts and dinners* while paddling, ThermaRest inflatable seat cushions, all group camping and cooking equipment and the tutelage of our company's decades of guiding trips in these waters.
*Lunches are provided on our two- and three-day trips. On our four- and five-day trips, three of the lunches are provided. Please plan on supplementing accordingly. See meals below. 
Meals: Each day we will prepare nutritious and delicious breakfasts, lunches* and dinners of fresh and wholesome foods. On our four- and five-day trips you will supply 1 (for four-day trip) or 2 (for five-day trip) of your own. Since no refrigeration is available, you want to bring your favorite non-perishable lunch and snack foods that travel well. Our favorites are peanut butter and jelly sandwiches, cheese, crackers, durable fruits and raw vegetables, nuts and energy bars, summer sausage, jerky, humus, pita bread, cold cuts, tuna in vacuum sealed package, trail mix, etc.
What you Bring:
Clothing: This is a kayaking and camping trip. Plan on wearing the same clothing for more than one day! This makes your packing lighter and when you finish the trip that first shower so much more delightful! The San Juan Islands lie in the rain shadow of the Olympic Mountains. Summers are dry and sunny with occasional cloudy days and some rain. Summer temperatures range from daytime highs of 70-80F to nighttime lows of 50-60F. You can expect cooler days and nights in May, June, and September with a greater chance of rain. Please be prepared for all conditions at any time!
Rain gear: coat with hood and pants (Gortex or comparable). Rain ponchos are not adequate. We paddle through all sorts of weather and conditions.
Water shoes (Heel strapped sandals, aqua socks, wetsuit booties, Chacos, etc. No flip flops). Good sturdy water shoes are critical. You will get your feet wet each time we launch or land and need to traverse slippery, rocky shores and driftwood.  
Dry shoes for walking and in camp. (no hiking boots)
Warm weather clothes, t-shirts and shorts (quick drying)
Cool weather clothing (wool sweater, fleece jacket, polypropylene, Capilene or comparable tops and pant) (no jeans or sweatshirts); quick drying pants.
Pair of light, soft gloves to prevent blisters (sailing, biking, paddling, even gardening gloves).
Pair of gloves for warmth (May, June and September trips especially)
Wool or fleece stocking cap (May, June and September trips especially)
Swimsuit—some folks like a dip in these coldly refreshing waters!
Other Necessary Gear
One sun hat with wide brim/visor
Sunglasses
Sunscreen
Mess kit, (lightweight plate or bowl, cup, knife, fork and spoon)
One quart or liter bottle full of water (please no single use plastic)
Sleeping bag (rated to at least 25 degrees, bag should pack down into a stuff sack to 14" x12" or less, preferably not down-filled) and sleeping pad (ThermaRest or comparable—no air mattresses)
Flashlight with extra batteries (headlamps are best)
Pocket Knife
Personal toiletries (towel, washcloth, toothbrush, toothpaste, biodegradable soap, toilet paper (there is toilet paper at each campsite's outhouse), extra spectacles or contact lenses)
Favorite treats to share with group (how best to get to know your fellow paddlers then to share some goodies?)
For our four and five-day trips, personal lunch foods for 1 or 2 days of your trip
Gratuity for you guide. Optional, but appreciated. 15% is customary. 
Other Optional Gear
Coffee and Tea: We supply French pressed coffee each morning. If you wish to bring your own tea bags please do. Please keep in mind that some mornings we have a tide to catch and don't have a lot of time for leisurely coffee prep or sipping. Because we carry our own water, we usually don't have it to spare for evening coffee or tea.
Alcohol: We do not serve alcoholic beverages. If you wish to bring your own please do so and drink in moderation. Bring wine in a box or hard liquor in an unbreakable water bottle or flask (we don't have water to be spared for mixer). Beer is bulky so, if you must bring it, please limit yourself to one six-pack of aluminum cans per kayak.
Camera in waterproof bag (zip-loc bag works fine)
Binoculars (zip-loc bag works fine)
Paperback book
Mosquito repellant (typically not needed)
Packing and Waterproofing: The kayaks we use are designed for extended trips. Your kayak will carry your personal gear and a share of the equipment and supplies needed for the entire expedition. Please limit your bags as follows:
A small handy bag stowed in front of you and accessible while paddling. This will contain a jacket, snacks, sunscreen, camera, binoculars.
Sleeping bag in a stuff sack lined with 3 mil plastic trash compactor bay or your own dry bag.
Sleeping pad (does not need to be waterproofed and should be separate from your sleeping bag).
A nylon duffle bag lined on the inside with trash compactor garbage bag and no larger than 24 x 15" or two 22-liter dry bags (or smaller) packed with the rest of your gear, clothing and toiletries.
If you don't already have dry bags it is not necessary to buy new ones as our tried-and-true technique will keep your gear dry. You will need trash compactor bags. These are heavy duty 2 or 3 mil plastic. Line the inside of your bag(s) and inside of your sleeping bag stuff sack with your trash compactor bag.  Doing so will keep your gear dry in all conditions and the plastic from tearing as it will if on the outside of your bags. Plastic bags should not be on the outside of any bag.

Arriving and Departing Friday Harbor:  To make the most of your trip we suggest you arrive in Friday Harbor the night before your trip departs. If so, please meet us at our kiosk at 10:15am. If this is not possible, you will need to walk on the ferry that leaves the Anacortes ferry terminal daily at 9:05 AM arriving in Friday Harbor at approximately 10:10 AM and walk immediately to our kiosk.  View the Washington State Ferries schedule.
If you miss the ferry and do not make our 10:15 am departure it is treated as a cancellation and full payment is retained.
Try to be the first to walk off the ferry by getting down to the car deck ahead of the crowds. We are located just two blocks directly up the hill from the ferry dock in Friday Harbor. Follow East Street past ferry loading lanes, cross to The Hungry Clam, past Serendipity Used Books, and The Market Chef. We are on the corner of A and Nichols Street between Cynthia's Bistro and Roy's Drive-Thru. Look for our Kayak Tours sign and colorful umbrellas inside the white, picket fence.
To save some money, time, and precious fossil fuel, we encourage you to park your car at the Anacortes terminal and walk on the ferry. Convenient overnight parking in Friday Harbor is difficult to find. Note ferry reservations are necessary for those driving on the ferry. There is no time to drive on the ferry the morning of your trip unless you arrive on the earliest ferry leaving Anacortes.
On the last day of your kayak trip, we will have you back to Friday Harbor in time to catch a ferry between 3:40 pm and 6:30 pm to Anacortes. You may choose to spend the night at an accommodation in Friday Harbor and enjoy our town for the evening.
Please do not hesitate to contact with any questions that may arise.