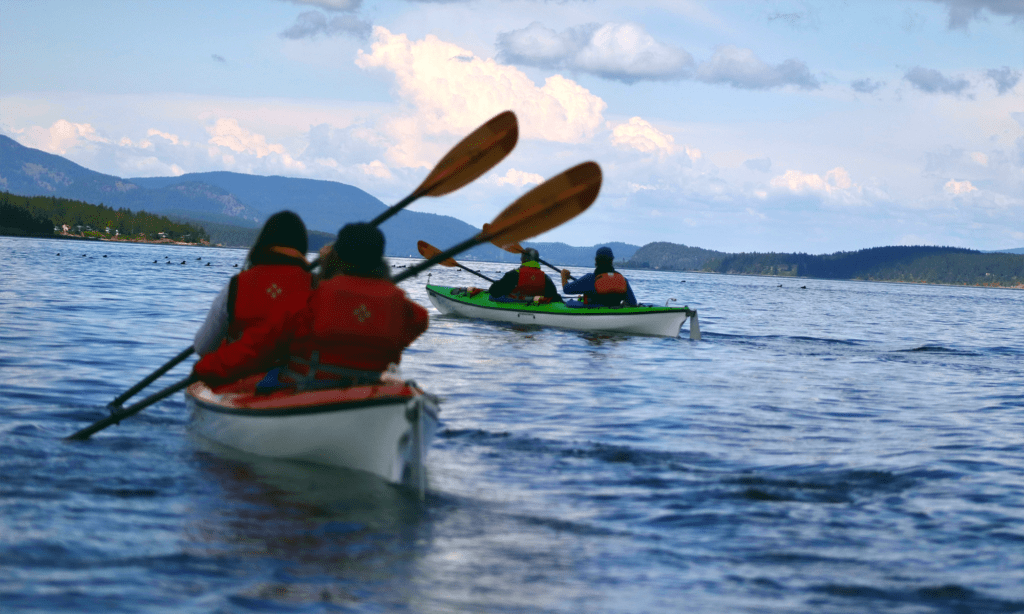 Multi-Day Kayak Rentals in the San Juan Islands
We specialize in multi-day rentals and will work closely with you in creating a safe and memorable adventure! All multi-day rentals include a detailed itinerary planned for you based on the number of days, campsites, tides and currents, alternate routes, campsite departure times etc.
Info and Logistics
Cost: $115 per day (for 3 or more days; $125 per day for 2 days) per double kayak, plus sales tax. A 50% deposit is due at time of booking with the balance charged 45 days prior to departure date. If you are registering within 45 days of your trip date, full payment is required. Thank you.
Duration: minimum of two days/one night; you choose how many days you want.
Difficulty: moderate to hard. Participants must be in good to excellent physical condition, experienced in the outdoors, able to lift kayaks and gear up and down the beach and able to paddle for sustained periods in inclement conditions.
Minimum Age: 16 when accompanied by a parent
Cancellations: With notice 7 days or more prior to departure date a 100% refund less a $25.00 cancellation fee.
Information We Provide: We give you great ideas on where to go and what to look for – as well as safety information about paddling the waters around San Juan Island. For the best opportunity to see wildlife in one day on the water, we recommend a Guided Day Tour with one of our incredible guides. Groups are small and personal.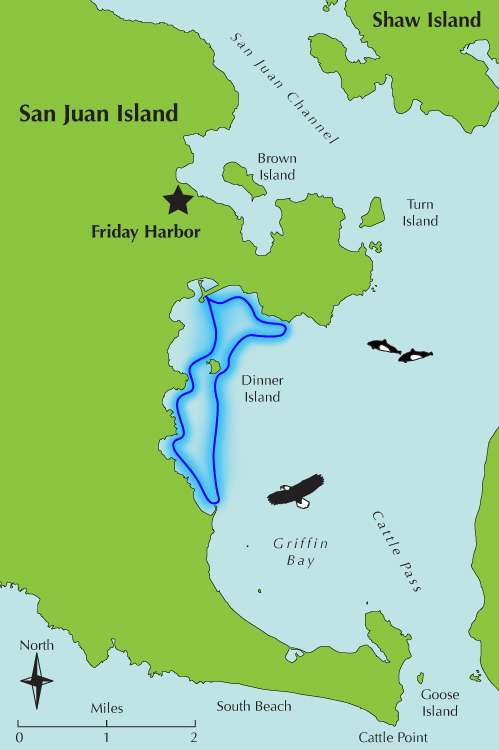 What You Might See

Harbor seals
Dall's and harbor porpoise
River otters
Mink
Bald eagles
Osprey
And many other migratory and local bird species
What We Supply

Quality fiberglass double sea kayaks (Seascape II's by NW Kayaks)
Werner carbon-fiber paddles
Patagonia or Extrasport PFD's
Snap Dragon Design spray skirts
Bailing pumps & sponges
Charts
Spare gear/parts in waterproof gear box
ThermaRest seat cushions
Cockpit covers
Detailed equipment list and logistical info sent to you upon registration
Detailed, written route itinerary including daily launch times, campsites, hiking opportunities, beach breaks, water resupply, alternate routes, etc.
Transportation to and from our kiosk to our launch site on Griffin Bay
Thorough instruction on beach before you launch
What You Bring

Tents, sleeping bags and pads
Cooking stove, pots, etc.
All meals and snacks
Camping clothing
Water shoes
Water containers

* At the time of reservation we will send you a complete equipment list and packing instructions for your self-guided trip. You should be prepared to provide all your camping equipment. We do have tents, sleeping bags and ThermaRest sleeping pads available for rent, if you don't want to bring your own.
Optional Services

Please notify us at the time of your booking if you require any optional services. Additional fees may apply.

Take the boat to a launch site of your choice on your own vehicle – $35 fee for foam saddles, straps and attachment to your vehicle
Delivery of kayak(s) to your beachfront location and pick up – fee varies by distance. (Note: San Juan County Park does not allow delivery or pick up of rental boats.)
Have more questions about your trip? Give us a call: 360-378-4436.