WHAT ARE THE RULES ABOUT KAYAKS AND WHALES?
Our team here at San Juan Kayak Expeditions is dedicated to the safety of our guests as well as the well-being of our native orca whales. Although they are called "killer whales," the orcas of the San Juan Islands are known for being gentle giants with playful and curious souls. That being said, one should still exercise caution when interacting with these marine mammals, which can span up to 30 feet in length and weigh up to 10 tons. Kayaking alongside them is typically safe for all parties involved, but these laws and guidelines enforce the necessary precautions individuals should take when in proximity to these majestic creatures: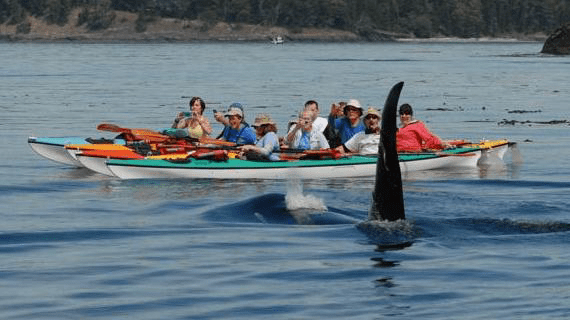 2-Day Orca Quest Kayak Trip
---
Stay Clear of Their Path
Though it's acceptable to view whales from a safe distance, kayaking groups should not try to move intentionally into the path of a whale pod. This is for their safety as well as your own — though it is commonly believed that whales actively try to avoid boats at short distances, they are often unaware that boats are even present, especially when hunting salmon.
San Juan Kayaking tour guides ensure that all whale watchers are at least 300 yards away from the whales—this is a guideline enforced by the NMFS (National Marine Fisheries Service). Keeping this distance notifies whales of your presence while enabling you to watch them safely.
Don't Chase Killer Whales
It's understandable to become excited during a whale sighting. Some people may want to get close in order to take a better picture or catch behaviors such as tail slaps or spy-hopping. But, as previously mentioned, it is not permitted.
Pursuing a whale or approaching it head-on could cause a whale to feel threatened. Stalking can cause the whales to leave, ruining the experience for your fellow kayakers and most importantly interrupting the whales.   Whales are not swimming in these waters for our entertainment but simply living their lives. We have a responsibility to not interrupt them.
Raft Up
When killer whales are spotted within 300 yards during a San Juan Kayaking expedition, your guide will request that you and the other kayakers in your group "raft-up". In kayaking, rafting up means organizing your kayaks side by side, to form a row. Kayakers stay together by maintaining this formation and holding onto each other's kayaks.
Rafting up creates one obstacle for traveling orcas and offers less chance to alter the whales' behavior. When kayaks are rafted together, the whale will identify it as one object instead of multiple small headaches. Rafting up near the shore whenever possible helps to avoid being in the path of a whale pod.
Do you have any questions regarding our guidelines about kayaks and whales? Feel free to give us a call or email! Ready to book a Kayaking Tour around the San Juan Islands?
---
---