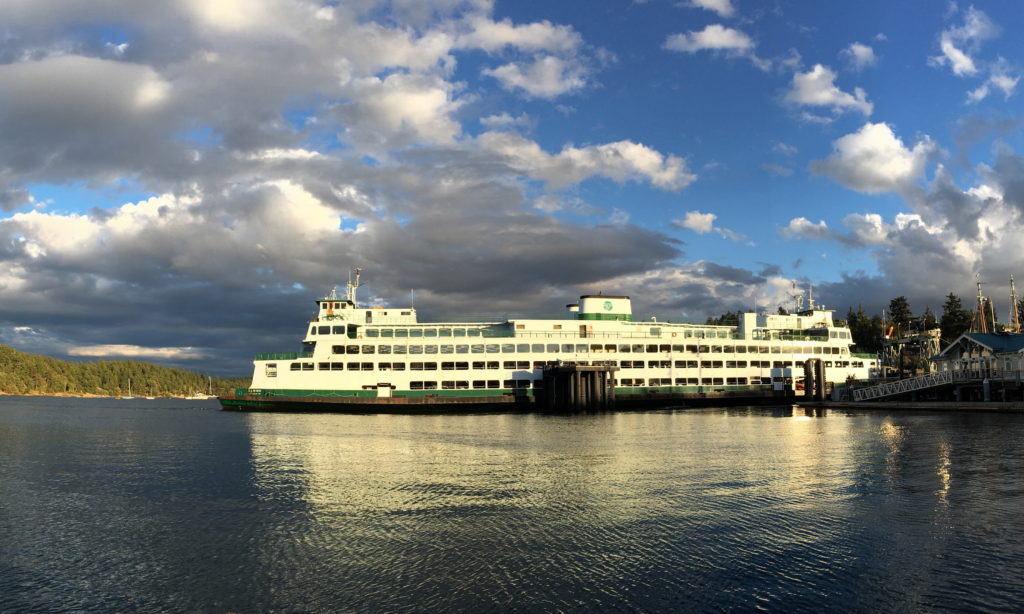 Getting to the San Juan Islands
You can choose to get to Friday Harbor, Washington by air or by sea or a little bit of both if you take a sea plane!
By Air
Friday Harbor Sea Planes offers multiple fun, fast and scenic flights daily! It's your best option for making the most of your vacation in the Pacific Northwest! Give us a call at 360.378.4436 and we will happily book your sea plane ride.
From Seattle
From Bellingham, Anacortes, Everett, and all the San Juan Islands
From Victoria, Vancouver, and other BC destinations
---
By Shuttle or Car
You may take the Island Airporter Shuttle or the Airporter Shuttle from Sea/Tac Airport or rent a car and drive to the Anacortes Ferry Terminal which has regularly scheduled ferries to Friday Harbor.
Although we recommend you walk onto the ferry (our Accommodations page has links to all of the motels, B&B's, hostels, etc. within walking distance of the ferry dock in Friday Harbor) and leave your car in the overnight parking area of the terminal in Anacortes for the duration of your tour or rental, it may be necessary for you to drive onto the boat. If so, you can make reservations by accessing the link below to Washington State Ferries website. This reservation requires that you arrive at the ticket booth thirty minutes before your scheduled sailing.
---
By Victoria Clipper
One daily departure for passengers only to and from Seattle to Friday Harbor are available on the Victoria Clipper leaving from the Seattle waterfront to the Port of Friday Harbor.
---
By Ferry (Anacortes to Friday Harbor WA Ferry)
The ferry ride is part of the fun! All of our kayak expeditions begin under the umbrellas of our kiosk (25 Nichols Street) in Friday Harbor, San Juan Island upon the arrival of the morning ferry from Anacortes on the day of your trip. Your reservation confirmation/equipment list will give you ferry departure time from Anacortes and meeting times in Friday Harbor. You can visit Washington State Ferries web site online at: http://www.wsdot.wa.gov/ferries/ or contact us via phone (360 378 4436) if you have any questions. Reservations for vehicles are now a reality. If you must bring a vehicle, please click here to make a ferry reservation (www.takeaferry.com).
We suggest you come across the night before your kayak trip (see Accommodations). This will give you an opportunity to explore Friday Harbor and get a restful night before your kayak adventure begins. You can leave your car in the Anacortes terminal overnight parking lot (pay fee) and walk aboard with your gear. This will simplify your trip and be less expensive (only $15 round trip per person) then bringing your car. Then sit back and unwind on a picturesque ferry ride to Friday Harbor! Once here make your way two blocks to our Sea Kayak Center kiosk and your kayak journey will begin. If you have spent the night before in Friday Harbor, simply meet at the kiosk 15 minutes prior to your trips' departure time. Travel to the Anacortes ferry terminal is approximately three hours from Seattle, two hours from Everett, and one- and one-half hour from Bellingham. Be sure to allow yourself plenty of time to park your car, unload your gear and buy your round trip, passenger ferry ticket to Friday Harbor in the ferry terminal!
If you are staying in Anacortes the night before your trip, there many motels, hostels and B&B's available. If camping, you can stay close by at Washington Park one mile west of the ferry terminal or at Bay View State Park a few miles east of Anacortes.